Coop Collection Meghan & Deghan   The greatest thing about Meghan & Deghan is each hen is individually called Meghan & Deghan.  We cannot tell them apart and they are generally hanging out with each other anyway. They must be identical twins or at least from the same mother as they have been indistinguishable since their arrival as chicks and glued to each other's hip from day 1.    Meghan & Deghan are Wyandotte hens and just plain fantastic members of the coop.  They are active and social birds yet cause little drama as opposed to some of the other...
---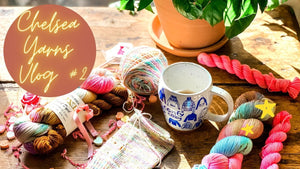 Chapter 4 "When one door closes, another one opens…."Alexander Graham Bell"  The 25 Days of Vlogmas.  My friend Girl Meets Yarn pushed me, dared me and finally convinced me to do Vlogmas this holiday season.  I was hesitant as I thought about the challenge, what will I do?  What will I say?  25 days is a long time!  Thats a lot of editing.  Will anyone watch?  In the end, it was well, well worth it!   Being out and about amongst the wonderful yarn world was so much of the joy of owning Chelsea Yarns in Red Bank.  The interaction...
---
C Hi everyone! We have been super busy here at Chelsea Yarns! We hope you have been enjoying Vlogmas on our Youtube Channel! We are updating the website tonight with our favorite chunky yarn and wanted to share an awesome pattern with you!   CHELSEA MIXER HAT Sized for Women (Men). Shown in Women. Skill level Easy   MATERIALS Yarn Chelsea Luxe Chunky 1 skein   Needles · Size 10.5 circular needles, 16" long · Size 10.5 double-pointed needles (dpns) Notions · Stitch marker · Pompom maker   FINISHED MEASUREMENTS Head circumference 18 (20)" Length 9" (excluding pompom)   GAUGE...
---
• king arthur flour • pizza • pizza night
PIZZA TIME!
---
Push Yourself because no one else is going to do it for you.